Wall-mounted comic book frames are a fantastic way to celebrate your collection while adding a centerpiece to any room. There are so many ways to customize your comic book collage. Here are some tips to consider before you go making holes in the wall
Re-Consider Your Wall Selection
Despite what you may think, comic book frames don't always have to be displayed in your bedroom, office, or 'man-cave'. Comic books are works of art (as are your DIY'd frames)and so you can use them to fill the main wall in a living room or bedroom. Foyers, around doorframes, up staircases – pretty much any empty space is made livelier by displaying a comic book.
Get creative and have fun with it. If you're really that unsure whether your comic book collage will look good on a wall, ask for help. Have someone else hold the frames up for you so you can see what they'd look like before you move forward.
Start At Eye-Level
Eye-level is an aesthetically-pleasing starting point if you're looking for where to hang your comic book frames. After all, people will want to examine your collection up close.
However, if you live in a smaller apartment or have a space with low ceilings, then your comic book collage can create an illusion of openness, with the ceilings feeling higher than they actually. Hang your books just above eye-level.
Focus, Don't Spray
Create a focal point with your comic book frames. Novices tend to "spray" pictures all over the wall in an attempt to cover every inch of space. Ensuring you have plenty of room left on your wall after hanging your collage helps maintain design focus.
Go Wide With Big Walls
For bigger walls, the wrong collage configuration can result in an excess of awkward empty space. Don't be afraid to space out your comic book frames a little.
Blending Design Tastes
Don't overlook the little things like the color of the backmats and backing you use in your comic book display. If the frames don't match the rest of your home décor, then they draw unwanted attention to themselves, like: "What are those doing here?" Establish your color palette and stick to it.
Help Picking Colors
Black frames – whether backmats or backing – tend to blend well with contemporary décor and modern furniture. You can display similar comic book covers or mix-and-match for an eclectic style. Frames with a light wood finish pair well with vintage interior design. Stained frames with a darker finish are better suited for homes with classic décor elements like cherry or mahogany furniture.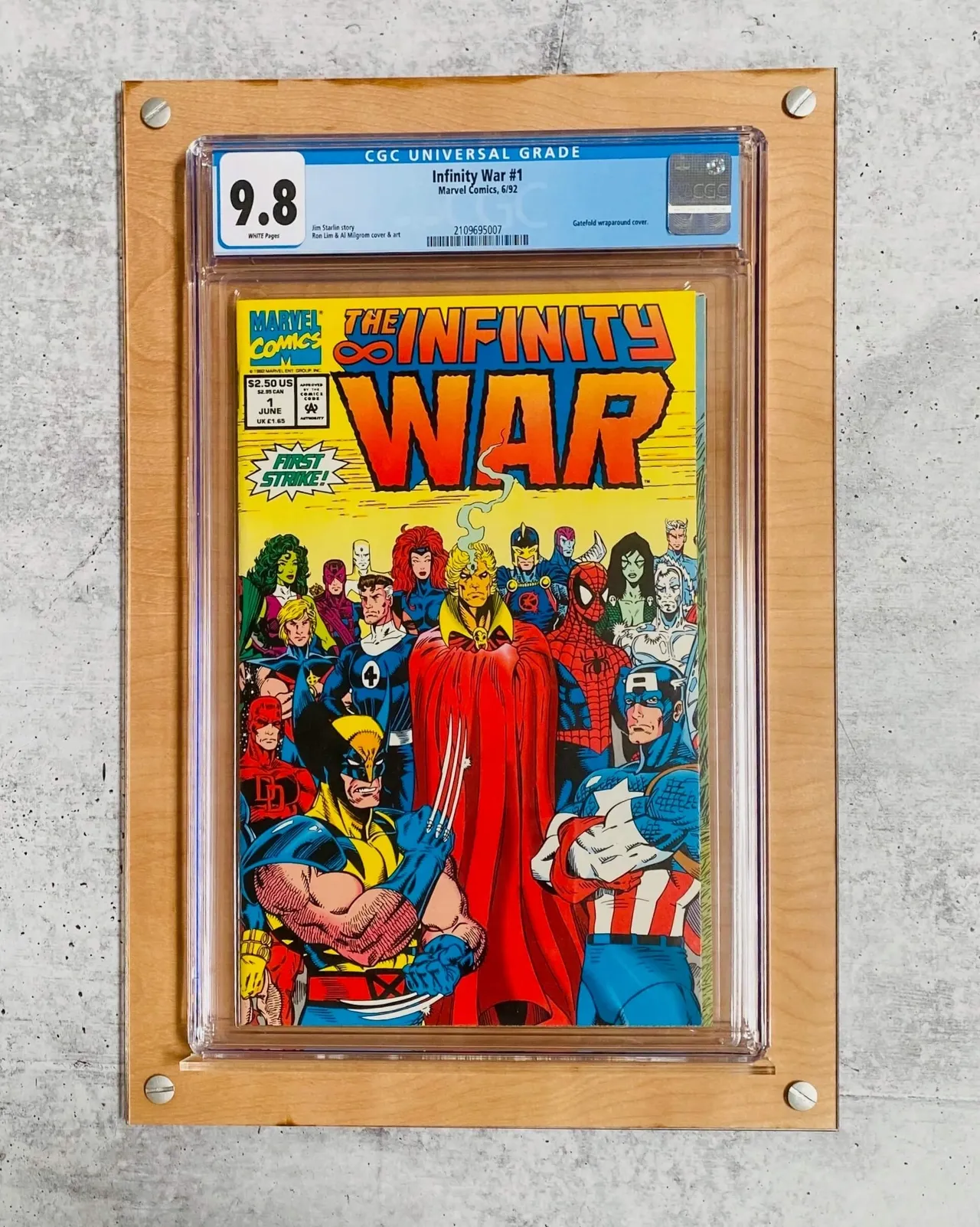 Graded or Raw Comic Books?
Maybe it's obvious – or maybe not – but before deciding on a wall collage, always consider the comic books that you'll be displaying. Do you have graded slabs or raw modern comics you'd like to show off? It's always better to mix them up to avoid monotony. Variants, autographs, your holy grail of graded comics – use your collection to create a sense of cohesion in the space. For example, you can tell a story with the issues you chose, or match the colors to the curtains.
How to Hang Your Comic Book Frames
Crafti's FLEX Frames & Displays are easy to hang. Use the convenient hanging template we provided to make your guide holes.